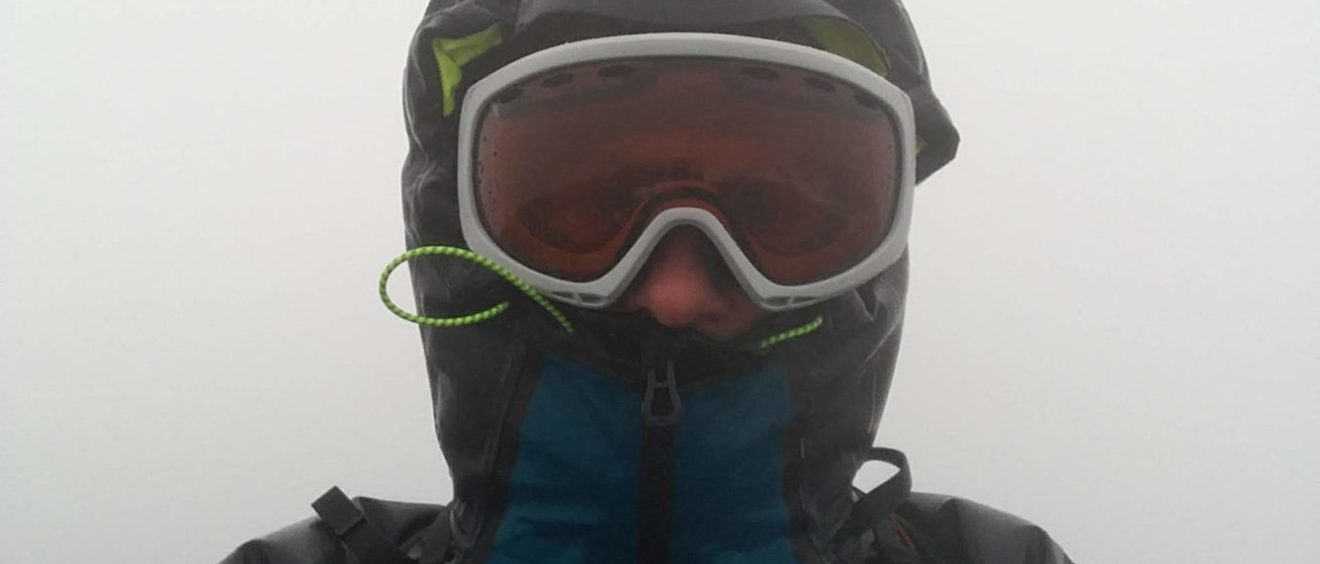 No such thing as BAD weather…..part 2.
Hello and I hope you are well in these current strange and challenging times we find ourselves in, a lot has changed for everyone since I wrote the first part of this blog, which you can check out here: https://awakenadventures.ie/no-such-thing-as-bad-weather/ but one thing that will not change and will still be there once this is all past will be the mountains, and I know I personally cannot wait for the day when I can get back out into them!
In my previous blog I was describing what you should be looking for in waterproof jackets, it seemed like there was a lot of information to consider, some of which would have sounded quite technical for example: hydrostatic head, but the good news is that this blog should be a bit less technical as everything described for waterproof jackets is applicable to waterproof trousers.  In this blog I will be looking at waterproof trousers and dressing in layers.
Waterproof Trousers
For me personally waterproof trousers are an essential piece of kit for heading out into the hills, if I'm not already wearing them, I will always have them at the top of my rucksack ready to pull on if bad weather rolls in.  As with the jackets the trousers come with a range of different features, and again you generally do get what you pay for.  When deciding on which pair is right for you there are a few things to consider: fabric, waistband, zips and general fit.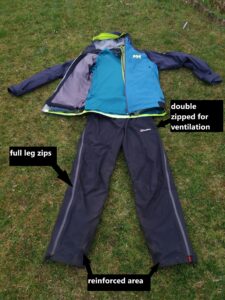 Fabric – As with the jacket getting the right balance between waterproof and breathability is important to staying dry and comfortable.  You will more than likely be wearing them over another pair of trousers so I'm sure you can imagine that this combined with the exertion of hiking will contribute to quite a build up of heat, so the ability for the trousers to be able to breathe reduces the build up of sweat on the inside.  Another feature to look for is taped or sealed seams, the seams on all waterproof garments should be sealed to ensure that water doesn't work it's way through the stitch holes in the fabric.  Again depending on how much you anticipate using the trousers there is also the option of having reinforced material in hard wearing areas such as the instep, this helps improve the durability of the trousers.
Waistband – Waterproof trousers come with different waistbands which reflect the activity they are designed for.  Most will come with an elasticated waist as they are designed to be pulled up over the top of other trousers easily, a draw cord also helps to cinch in the waist, keeping the trousers up and comfortable.   Other more technical (and expensive) versions come with a front bib style and braces to hold them up.  The benefit of this is that they are more comfortable when wearing them with a rucksack hip belt or climbing harness as there is less material around the waist and also ensures better coverage if you are reaching your arms up high, for example when climbing.
Leg/ankle zips – This is a feature that is probably overlooked, but to me it is actually a key feature that makes the difference between a good pair of trousers and a great pair of trousers.  Most waterproof trousers will come with some form of zip or fastening on the side to make getting them on and off easier.  An ankle zip allows you to widen the bottom of the trousers to make them easier to get on, but the leg width of the trouser remains the same so you will probably have to take off your boots to get them on or off, otherwise your boots could get caught in and ultimately tear the inner mesh of the trousers.  A full leg zip allows you to unzip the whole leg of the trousers making them extremely easy to get on and off whilst still wearing your boots.  A double leg zip is what I would personally always look for as it allows me to unzip down from the top of the leg for ventilation and allow access to the pockets of the trousers I am wearing underneath.  Some waterproof trousers do come with pocket access holes, but these have the potential of letting water in resulting in you having wet thighs.  
Some more technical trousers will also have a gaiter insert at the bottom of the leg to help prevent rain or snow riding up the inside of the trouser leg, but again to put these on you would probably need to remove your boots.
General Fit – When buying waterproof trousers it's important to get a good fit. Some have a tendency to be sized slightly bigger so that they fit comfortably over a pair of existing trousers. This is helpful, but you don't want them so big that your legs become sails on a windy day as this can be particularly irritating or even dangerous. As with any other trousers, you should have enough space to move comfortably without having too much excess that could cause issues.
How to dress in Layers
Now that we have looked at the outer waterproof layers, it's time to consider what you wear underneath.  The best way to dress for the hills is by what is known as layering, this method gives you the flexibility to match what you are wearing to your current conditions to maximise your level of comfort.  Remember that you generate a lot of heat hiking in the mountains so you want to be able to regulate your temperature easily.  Especially now as we come into the summer months.
Base Layer
To begin with there is the base layer, called this because it is the first layer that you put on and is next to your skin.  For this reason you want to ensure that it is comfortable and has good wicking properties, i.e. it draws the sweat away from your body and keeps it away allowing the sweat to evaporate and therefore you dry.  There are various materials that are perfect for a base layer, each with their own benefits, such as: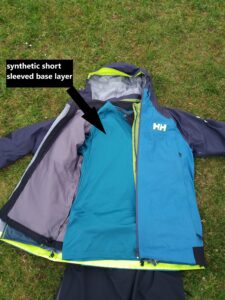 Synthetics: One of the most common synthetic fabrics base layers is polyester. You might also see nylon, polypropylene or rayon, or a blend of fabrics. Fabrics that include spandex offer comfortable stretch and can fit snugly without feeling constrictive.  Synthetics excel at wicking and dissipating sweat, so they give you the driest feel of any type of fabric.  They are very durable and some synthetics have an added finish that reduces the build up of odour-causing bacteria which is a bonus.
Merino Wool: I know when I think of wool I automatically think of scratchy and itchy jumpers from my childhood, but merino wool is definitely not like this.  Merino wool has almost completely replaced traditional wool thanks to its soft, ultrafine fibers. It can also be blended with other fabrics, like spandex to enhance fit and flexibility. Merino wool wicks quite well but some moisture in the wool is retained in its core, which won't chill you, but the wool will not feel quite as dry as a synthetic fabric. It will also take longer to dry when it gets wet.  Although not as durable as synthetic if you wear it under other layers it should stand up to general wear and tear quite well.  Also wool is highly resistant to odour causing bacteria so you can wear it for prolonged periods without having to worry too much about any offending odours.
I would advise against wearing Cotton as this soaks up the sweat but doesn't wick it away from the skin so could result in you feeling wet and cold. 
Remember to be able to wick sweat efficiently, your next-to-skin layer needs to actually be next to your skin. So a comfortably snug fit everywhere is your goal, so it's always best to try it on to be sure.
Mid Layers
Mid layers are the insulating layers that help retain body heat and protect you from the cold.  As with base layers there is a range of options both synthetic and natural, each with their own benefits.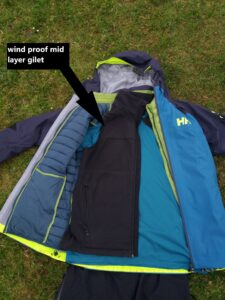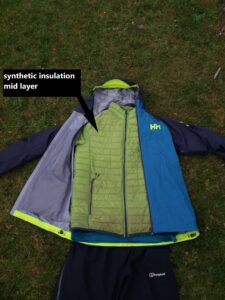 Polyester fleece: These can be lightweight, mid-weight or heavyweight fabrics.  Fleece stays warm even if it gets damp, and it dries fast. Fleece also breathes well, so you're less likely to overheat in it.  However because of the breathability, wind can blow right through, which can steal warmth. That's why you need to have a shell layer with you if you're going with a fleece middle layer. Although some fleeces come with an inner wind membrane which helps block the wind.
Down insulated jackets: Nature's best insulator, down offers more warmth for its weight than any other insulating material.  The main benefits of down are the fact that it is ultralight, ultra-warm and ultra-packable. The efficiency of down is measured in fill power—from 450 to 900.  Because down is always inside a shell material, down jackets also offer some water and wind resistance. However one problem with down is that it loses insulating efficiency when damp, and if like me you're allergic to feathers, then a down jacket is a no go.
Synthetic insulated jackets: Modern synthetic insulation has come very close to mimicking downs insulation properties, and while synthetics don't compress as well as down, they're a popular option for rainy conditions because they retain insulating ability when they get damp.  Like down, synthetic insulation is always inside a shell material that offers added water and wind resistance.
Down/Synthetic Insulation: This approach offers a mix of the performance benefits of each type of insulation. Some designs blend the down and synthetic fills together and use that blend throughout the jacket. Some designs put down in some areas, like the core, and synthetics in other areas, like the arms or sides. Another plus: If you'd love to get a down jacket but are constrained by your gear budget, hybrid fills help keep costs lower.
Depending on the time of year, weather conditions and your own personal comfort level the number of layers that you may need to wear can vary.  When it comes to mid layers in my experience having zipped layers is best, this way it is easier to regulate your temperature by just unzipping a few layers if you are too hot or alternatively zipping up if too cold, meaning that you don't need to stop and remove layers and store them in your rucksack etc. 
Remember you generate a lot of heat very quickly when hiking, so bringing just one super thick cosy fleece to wear doesn't leave much scope for regulating your temperature.  Another common mistake is starting off your hike wearing everything, guaranteeing that within five minutes you'll probably be stopping to strip off layers.  I find it best starting off lightly layered up and having back up layers in my rucksack for when I stop for a snack, if the weather deteriorates or temperatures drop.  
Even if you don't wear all your layers at the outset, it's a good idea to take enough layers on every outing: You can peel off layers if things heat up, but you can't put on layers that you didn't bring along.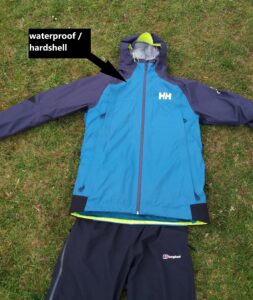 This may seem like a lot of information to take on board but don't be daunted.  I have found that over time and with experience I know what works for me.  Remember everybody is different so the best thing that you can do is just experiment to find out what layering suits you.  Just be sure to always bring adequate clothing and equipment with you to ensure you are safe in the outdoors.
So that's waterproof jackets, trousers and layering up discussed, the next thing I will be looking at is footwear for the hills.
Until then I hope you stay safe and well, we'll be able to get out adventuring again soon!
Stephen